Trojan Technologies Ultraviolet Water Sterilizers and Replacement Parts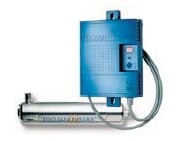 The Trojan UVMax system is the most advanced UV technology ensuring that you get a robust cost-effective and efficient solution to your disinfection needs. All models include high output UV lamps 304 stainless steel housing and a state of the art power supply with both visual and audio failure alarms. The D E and F models also include alarm resets elapsed time meters dry contacts and lamp replacement meters. All models 120 volt 60 Hz.

These section has systems with flow rates from 1 to 47 g.p.m.